STREET CHEESE - it's a dip and a song and a record label

Ingredients:

2 cans of chili w/beans
2 bricks of creamcheese
8 oz. package of shredded taco cheese

Spread the creamcheese in the bottom of 8 x 12 baking pan. Add the chili, top with shredded cheese. Bake @ 375' until the cheese is bubbly.
Serve with tortilla chips and enjoy!
We recommend a shot of tequila or a Corona for best results.

SHI**Y KITTY LITTER BROWNIES

Ingredients:
1 large box of Grape Nuts Cereal
1 box of Brownie mix
Make Brownies according to the box.
When they start to cool, roll them into turd shapes.
Take your Grape Nuts and line the bottom of pan or litter box.
Add the turds. This should give you the SHI**Y KITTY LITTER effect. This will make both your mother and your friends think you are sick and have problems. But we all know that's not true because you like HUNGRY JACK!
Perfect for food fights, too!

HUNGRY Jack SpamPlatter
from Hungy Bowl 37
VEGAN STEW From Quai ChangChrist
STEW IS GOOD FOOD
~~Quai Chang Christ's VEGAN STEW~~
1 Lb. of cubed Vegan (San Fransiscan, for more spice, if one prefers)
1 Lb. baby potatoes(or potatoes for those of the Quail school of thought)
5 carrots washed and split down the middle
2 Lbs. baby onions (smothering is optional)
Parsley, Sage, Rosemary and Thyme
Italian herbs (don't confuse these with the store bought weeds, get the real thing)
Cut the vegan meat from a freshly killed vegan; one should use Kindkill traps if one wants to cut down on suffering; personally I prefer a rusty bear trap, but the end results are the same. Brown cubes in a large skillet over medium heat , stirring occasionally and ignoring the impotent screams from the other prissy members of the prey flock. While browning cubes, season generously with Italian herbs. Place cubes in a medium crock pot along with raw baby potatoes, split carrots and onions and 1 half cup of boullion, 2 shots of Jack Daniels and three ounces of Italian dressing. Simmer until Vegan cubes are tender or until the rest of the flock pisses you off to the point where they must be eliminated.
Reduce heat and allow to simmer for 30-40 minutes. Serve over granola or tofu.
All My love
Quai Chang Christ
If you have a Food For Thought recipe, let us know and if we use it, we'll send you a free CD.



E-mail: HUNGRY JACK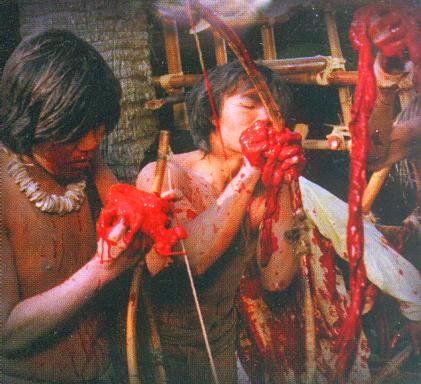 Jimmy Crackcorn's "Fritos on Your Breath " Crunchy Joes
Prep Time 10 Minutes Cook time 15 minutes
1lb Ground Beef
1/2 cup cup of Onion ( smothering is optional)
1 10 3/4oz. Fritos brand Chili Cheese Dip
6 Hamburger Buns
Fritos Corn chips
Brown Ground Beef in Skillet until tender , drain
add fritos brand Chilli cheese dip , heat stirring often .
To serve : Place meat mixture on buns , Top each sandwich with 1/2 cup of Fritos corn chips . Place top of buns on Sandwich . serve with cold beer
**Brush teeth to remove fritos from your breath repeat as needed **
CALF BRAIN FRITTERS

Clean brains and boil for 20 minutes. Add 1/2 teaspoon of salt, 1 tablespoon of lemon juice, 3 cloves, 2 slices of bacon and 1 1/2 bay leaves.
Remove from heat, let stand until water is cold.
Drain between towels, separate into small pieces.
Make a batter of 1 1/2 cups of flour,1 teaspoon of baking powder, 1/4 cup of salt, a sprinkle of pepper and 1 beaten egg.
Add brains and drop batter by spoonfulls into a greased muffin ring. Place into a frying pan in which there is a generous supply of hot lard.
Cook on one side until golden brown. Flip. Repeat. Arrange on serving dish and enjoy.